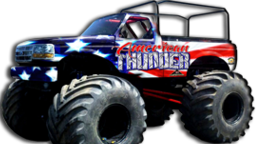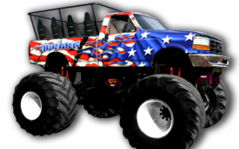 Our Family owned and operated motorsports promotion company has over 20 years promoting Monster Truck Thrill Shows at Race Tracks, Fairgrounds, Event Centers, Hockey Arenas and has Produced Shows in some larger Secondary Markets.



We have Packaged a 2 hour Turn Key "Monster Truck Thrill Show" at a Cost that your Fairgrounds or Race Track can afford.


Monster Trucks, Car Stunts, Mega Trucks, Jet Vehicle and Rides in a real life Monster Truck make for an all around great time when presented to your local community.

The fast paced, high energy show keeps the crowd on the edge of their seats cheering on the MOTORSPORTS MAYHEM

Tt

The f

The American Thunder Thrill Show includes the following -

++ FREE MONSTER TRUCK RIDES 60 MINUTES PRIOR TO SHOW PERFORMANCE

++ 3 Monster Trucks performing Freestyle Exhibitions

++ 3 Mega Trucks performing Freestyle Exhibitions

++ 1 Jet Melt Down Show

++ 2 Thrill Show Stunt acts

++ 1 Show Coordinator

++ 1 Show Announcer

++ 1 Track Crew

++ Insurance coverage